Friday, October 19, 2018
11:30 am Match gate entries close
12:00 pm Match judging begins
-Dog judging
-Bitch judging
-Brace class judging
-Parade of National Champions – to be eligible, whippet has to have won a national race meet in CARA, CWA, NAWRA, NOTRA, or WRA OR have been ranked #1 in the annual stats of CARA, CWA, NAWRA, NOTRA, or WRA.
-Best in Match judging
For Bench Champion classes – championship titles can be from AKC, CKC, International Ch., or UKC
For Race Champion classes – championship titles can be from CARA, CWA, NAWRA, NOTRA, or WRA
Match Chair – Kris Goodman
Ring Stewards – Mike Slater, Sam King
This year's judge is Darien Adley, Hilerica Whippets.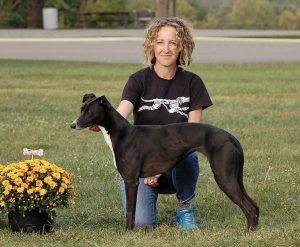 Our family welcomed our first whippet in 1971, while living in England – Dondelayo Chelsea. My mother, Carole Adley, was mainly a Saluki breeder and enthusiast at the time. However, that little whippet was the beginning of the long transition towards whippets only for Hilerica. All our dogs have her in their pedigree. In 1978, my mother gifted Hilerica Brass Knuckles to me. She was a superb hunter and courser, and I was hooked.
Years later, in 1996, when I moved from Montreal to Squamish, Penny Wilmot introduced me to racing. I had two little, very slow, whippets at the time. My mother and mentor has always been very supportive of my interest in racing and we bred our first "race" litter in 1999. I don't breed often but I am very happy with each, small step I've taken along the way to be where I am today.
This hobby of ours had led many of us to some of the greatest friendships of our lives. The people I've met have been so generous with their knowledge and support of my vision.  Those we partner with in carrying on our whippet lines and those we place our pups with become like extended family.
I feel it is important to give back to my hobby by chairing two nationals in Squamish, race secretary duties for the BCWRC, judged the occasional fun match and  help on the committee for Whippet Pay it Forward.
The fun match at the Nationals has always been important to me. It's a great opportunity to see dogs in person that you've only ever seen in pictures or heard of by reputation. It is also a chance to exhibit the dogs I've bred.  I'm honoured to have the opportunity to judge the fun match in Camden, NC, for the 2018 WRA/NOTRA Nationals.
Darien Adley
Hilerica Whippets