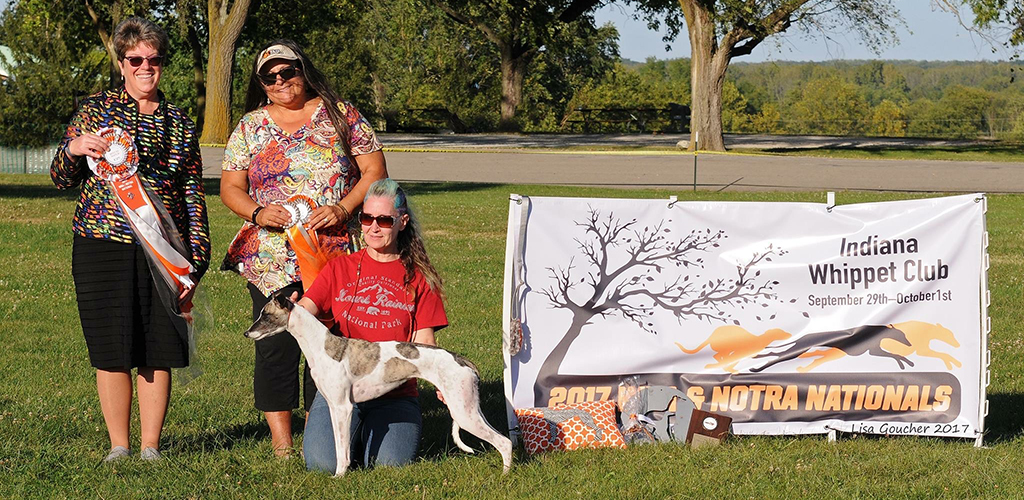 Friday, November 10, 2023
Fun Match Judge – Angie Grace Bass (bio below)
Match Organizer – Mike Hattery & Mandy O'Leary
Ring Steward – Braden Simmons
N

o Day of Match Gate Entries

11

:00 a

m

 Match Judging Begins

Dog Judging
Bitch Judging
Parade of National Champions – to be eligible, whippet has to have won a national race meet in CARA, CWA, NAWRA, NOTRA, or WRA OR have been ranked #1 in the annual stats of CARA, CWA, NAWRA, NOTRA, or WRA. There is no entry fee for the parade.
Best in Match Judging
Fun Classes Judging – Three fun classes are available. Only $5 each!

Fun Ears: Put on your favorite ears!
Big Shoulders: Show us those beefy shoulders!
Brace: Find your dog's doppelganger! ($2.50 per dog in Brace)
*For Race Champion classes – championship titles can be from CARA, CWA, DII, NAWRA, NOTRA, or WRA
Please visit the Awards Page for a list of the Fun Match awards. If you would like to sponsor a specific class, please contact Mandy O'Leary at southernwhippets@gmail.com or send her a Facebook message. You can then donate directly through PayPal at southernwhippets@gmail.com. Send as Family and Friends to avoid being charged a fee. Thanks in advance for your generosity!
Fun Match Judge Bio
Angie Grace Bass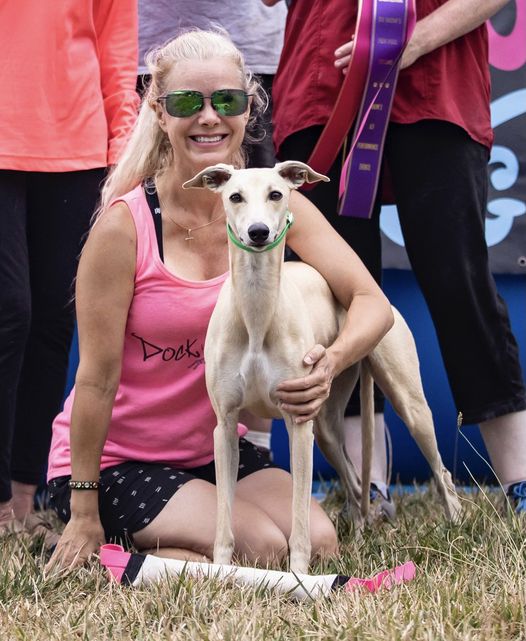 I am thrilled and honored to judge the Conformation Match at the WRA and NOTRA National Meets. My name is Angie Grace Bass of Devereux Whippets.
I have been involved in Whippets since the mid-90's. I started my adventure in lure coursing and the conformation ring. My true passion has become breeding truly versatile Whippets and taking them to their highest ability of achievements that display their breeding and purpose. I've competed in all aspects of Whippet competition from showing in the conformation ring, running my dogs in straight and oval racing and the lure coursing field, as well as handling them in obedience, rally, agility, scent work and dock diving, achieving success in all of these disciplines. I have been blessed to be the breeder, owner, handler of many amazing Whippets. My joy is to produce Whippets that are talented athletes, biddable, beautiful, intelligent and have great drive yet are wonderful companions too! I can't wait to be a part of such a legendary event and get to see so many beautiful and talented athletes this year at this year's Nationals.