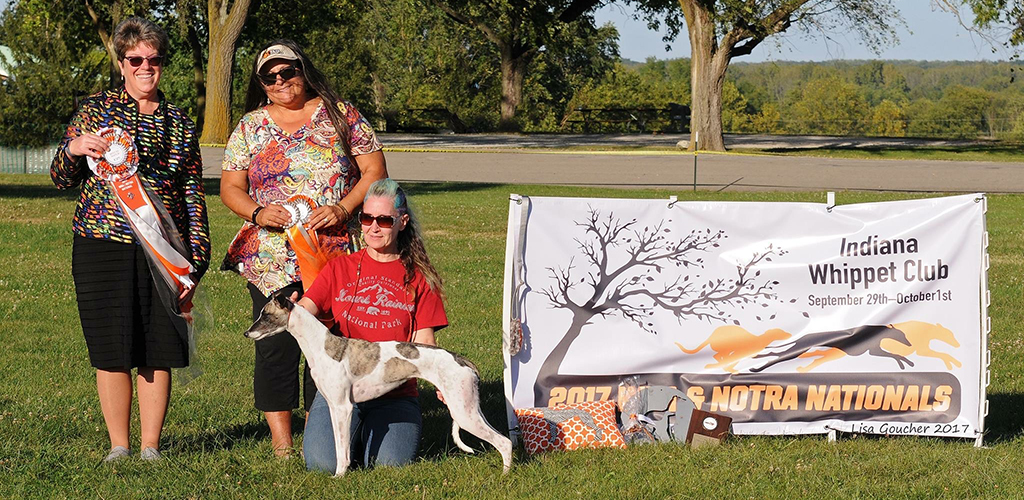 Friday, September 30, 2022
Fun Match Judge – Gale Lyttle (bio below)
Match Chair – Annie Kelsey
Ring Steward – Megan Pallatin & Joyce Ellinger
N

o Day of Match Gate Entries

12:00 pm

Match Judging Begins

Dog Judging
Bitch Judging
Parade of National Champions – to be eligible, whippet has to have won a national race meet in CARA, CWA, NAWRA, NOTRA, or WRA OR have been ranked #1 in the annual stats of CARA, CWA, NAWRA, NOTRA, or WRA. There is no entry fee for the parade.
Best in Match Judging
Fun Classes Judging – Three fun classes are available. Only $5 each!

Party Hat Ears: Put on your party hats and show us those ears! Handler is encouraged to wear a party hat as well!
Baby Got Back: I like big butts and I cannot lie. Show off those big butts!
Brace: Find your dog's doppelganger! ($2.50 per dog in Brace)
*For Race Champion classes – championship titles can be from CARA, CWA, DII, NAWRA, NOTRA, or WRA
Please visit the Awards Page for a list of the Fun Match awards. If you would like to sponsor a specific class, please contact Annie Kelsey at annie@wildaboutwhippets.com or send her a Facebook message. You can then donate directly through PayPal at indianawhippetclub@hotmail.com. Send as Family and Friends to avoid being charged a fee. Thanks in advance for your generosity!
Fun Match Judge Bio
Gale Lyttle – Galeforce Whippets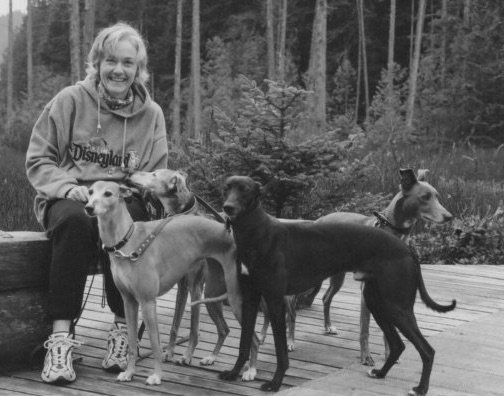 In 1967, at the age of nine, my mother, sister and I came across a race meet which was happening in park near where I lived in Vancouver. There was a picture of a litter of Whippet puppies, some of which were available for sale. The begging and pleading started, my mother eventually gave in, and Parti Girl of Course came to live with us. She was a littermate to Ch. Emberson of Course ARM (the first Canadian dog to obtain an ARM), and so it was no surprise that we were encouraged to race her.
Back then it was usual in BC for us to show what we raced and race what we showed. Even though Parti wasn't ever going to do anything in the show ring, we ventured into handling classes too.
I bred my first litter as a teenager in 72, although they were probably registered in my very tolerant mother's name.
Like many people who got into Whippets, I also grew up with horses. As a child I rode ponies, but couldn't own one because of where we lived, so the Whippets began to fill that gap. Without ever having heard the term, I had unknowingly embraced the concept of 'a poor man's racehorse'.
I loved the challenge of getting a dog trained and fit for racing, and then be able to enjoy watching them compete. When I began to breed, racing seemed like the best way to objectively judge if my breeding decisions were anywhere near correct or if it was back to the drawing board.
I've bred and owned race champions and show champions, but racing will always be more important to me. Although I admit I can get emotional just watching a really good moving animal trot from A to B <G>
Win or lose, there's something very satisfying and beautiful about seeing a functional animal doing what it was bred to do.
In the first paragraphs of both the CKC and AKC Whippet standards the description is of a moderate sized sporting hound in hard condition, which covers ground efficiently and is balanced and powerful, yet elegant. I think all those things are essential. As a breeder I want a sound, healthy confident hound that performs well, stays sound, and is a joy to live with.
I love our race meet fun matches because I think they are closer to what dog or livestock shows were meant to be originally. That is, a place to come and let people see the animals you are proud to own. No matter what activity you choose to do, the important thing is that they fill your heart, whether it be on the track, or in the ring, or most importantly, at home. If you take home some ribbons then it's a bonus day. But it's really more about the exhibiting than the winning.
I am honoured to have been asked to judge the 2022 WRA/NOTRA Nationals Fun Match and am looking forward to getting my hands on all those gorgeous hounds.