Our Judge – Ashley Hilliker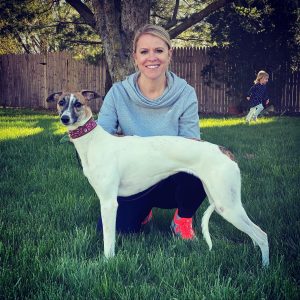 Friday, September 3, 2021
11:30 am Match gate entries close
12:00 pm Match judging begins
-Dog judging
-Bitch judging
-Parade of National Champions – to be eligible, whippet has to have won a national race meet in CARA, CWA, NAWRA, NOTRA, or WRA OR have been ranked #1 in the annual stats of CARA, CWA, NAWRA, NOTRA, or WRA. There is no entry fee for the parade.
-Best in Match judging
– Fun Classes: Two fun classes which are free to anyone entered in one of the regular classes (otherwise $5).
Brace and Handler Look-a-Like: Top prize awared to the handler and brace who most resemble each other (costumes welcome )
Ears Class – Rabbits vs Fruit Bats: Bring those sticky-uppy ears! Top prize to the one that most resembles either a rabbit or a fruit bat.
For Race Champion classes – championship titles can be from CARA, CWA, NAWRA, NOTRA, or WRA
Match Chair – Darien Adley
Ring Steward – Janis Castle
COMING SOON – On the Awards Page is a list of the awards for the Fun Match. If you would like to sponsor a specific class (and there is a blank space next to it), please email Jenna Eberl at wickedridgewhippets@gmail.com. You can donate via PayPal.
Send as Family and Friends to avoid being charged a fee.

Thanks in advance for your generosity!